By BCJobs.ca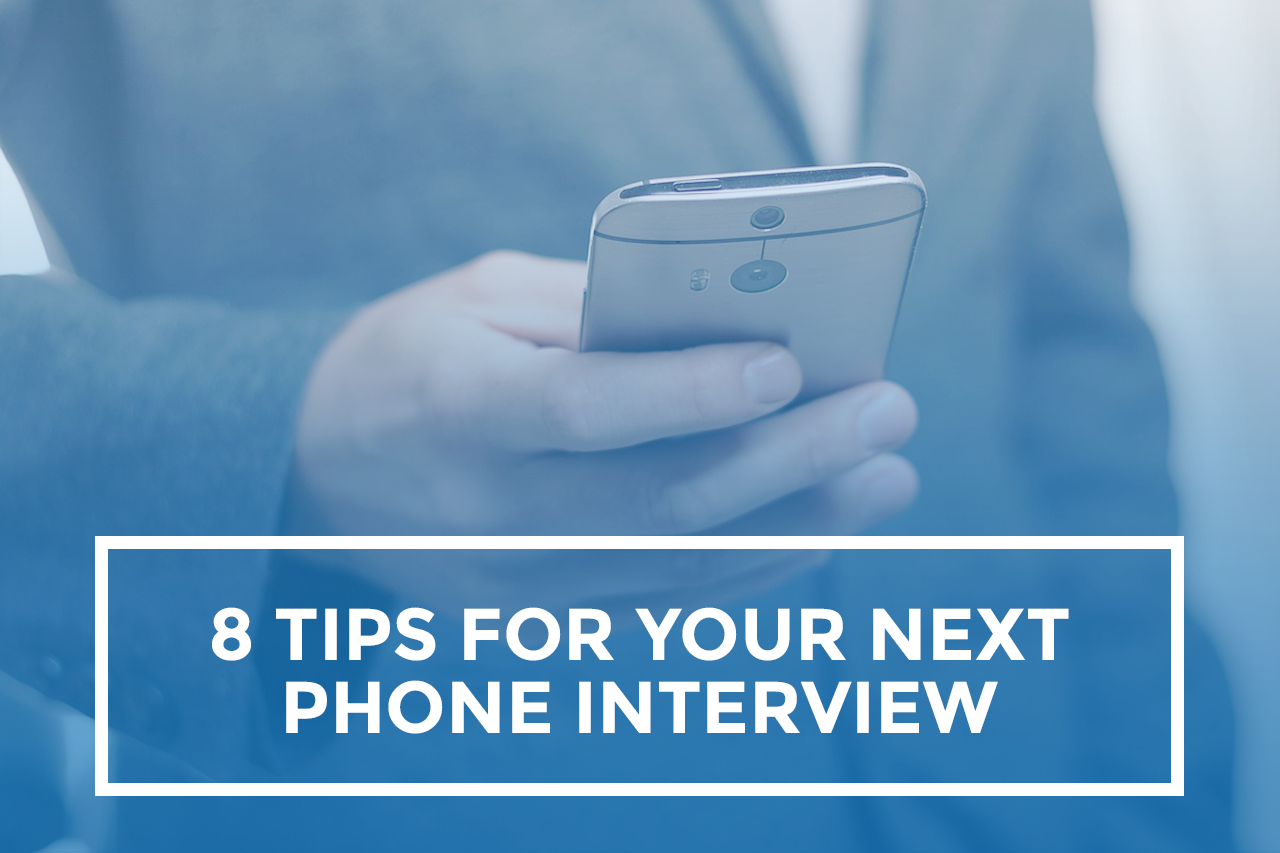 A great resume is no longer enough to get you a dream job. Many companies are now using external recruiters that first conduct a thorough telephone interview before inviting you to visit the company.
Recruiters who go through a pile of resumes will usually identify from 10 to 20 most interesting candidates and call them. Based on their impressions during the telephone screening interview, they will pick no more than 8 candidates. Finally, they will present their clients with a list of 2-3 most qualified candidates.
Phone interviews help to quickly eliminate candidates without having to spend resources on bringing them in for an in-person interview. Moreover, some interview candidates may not be able to attend an in-person interview but can be reached by phone easily.
A phone interview is your first point of real contact with the company so you should treat it seriously. Here are 8 things you should remember when having a phone interview for your dream job
1. Here are some basics you should know
In general, there are two types of phone interviews used by recruiters: scheduled and unscheduled. If the recruiter wants to schedule a call with you, they will first contact you by email or LinkedIn.
However, they could also ring you anytime. So make sure that when applying for jobs you can answer the phone yourself and keep it out of reach of your kids. You should also have a professional voicemail message.
Unscheduled calls can be tricky because you might be caught by surprise. If the recruiter calls you at a time when you really can't talk, ask them to schedule the call to another time by saying something like this: "It is great to hear from you. Unfortunately, I'm not at my desk at the moment and won't be able to give this call my full attention. When can I call you back?
2. Prepare for the interview and research the company
When you schedule a call with the recruiter, prepare for it just as you would for an in-person interview. Research the company and the interviewer. Make sure that you're prepared for questions like "What do you know about us?" If you're not able to answer that question citing the company's key markets, figures, strategies and other pieces of information, your phone interview might be over after a couple of minutes.
However, use the fact that it's a phone interview to your advantage and prepare a cheat sheet to have all the information listed in front of you.
3. Prepare a smart cheat sheet
Job interviews are all about answering questions, but asking the right ones is essential as well. The questions you ask will help you get information for making an informed decision regarding the job, but also confirm your qualifications as an excellent candidate for the position.
Write down all your research about the company and note a couple of questions you would like to ask the recruiter during the phone interview. It's a good idea to ask about different aspects of the job all the while expressing genuine interest in the opportunity.
Research the company to make sure that it's an organization you would like to work for. Don't be afraid to ask about job details that weren't covered in the posting.
4. Create a comfortable environment for the interview
Since this is a phone interview, you have full control over your environment, and you can use it to your advantage:
Eliminate any background noise that may come from pets, children, or other household members. Shut out all distractions to create a peaceful environment.
Make sure to have a glass of water at hand.
Print out your resume and highlight the parts you would like to include in your conversation.
Be ready for your call 10 minutes before your appointment. That way you won't sound rushed.
If you will be talking to the recruiter on a landline, make sure to turn off your cell phone.
And if you plan to do the interview on a cell phone, charge it fully beforehand.
Have some sheets of paper and pen ready to take notes during the call. It's better to write them down rather than typing them on your computer because the keyboard clicks might be distracting.
If your computer and cell phone and other devices make audible noises when you receive notifications, remember to turn them all off.
Find a comfortable place to sit and avoid slouching. It's best to sit at your desk or the kitchen table.
And remember to dress up for the interview – even if the recruiter doesn't see you, you will be entering into the situation with different energy when dressed professionally.
5. Listen, then talk
A job interview is not only about you answering the questions but also showing recruiters that you're good at listening. Be open to talking, but avoid dominating the conversation. Allow the interviewer guide the interview.
When answering the questions, don't fall into a one-sided monologue. Jot down questions you would like to ask at the end to show the recruiter that you have paid attention during the interview.
Keep your answers thoughtful, short, and honest. Don't rush, but breathe and speak clearly. And smile – even if they're not able to see it, your tone of voice will reflect your smile.
6. Prepare for common interview questions
Your next step is preparing for questions that are specific to phone interviews. It will help calm your nerves, but also make your responses more targeted and coherent. Here's a list of known the most common questions that recruiters ask during phone interviews
What do you find interesting about this job?
Are you willing to relocate for this job?
Will you be able to travel for this job?
If you were hired, how soon could you start?
Let's pause on the last question. First, avoid answering it with an enthusiastic "Now!". It will seem desperate and unrealistic if you're currently employed somewhere else.
Don't over-commit to early start date. If things don't go the way you planned, you would need to ask for more time, and that's not the right way to start a working relationship with an employer. Factor in all the actual logistics of getting started with the new job before the interview.
7. Don't rush
It's easy to rush during a phone interview because pauses seem awkward. But it's a good idea to take a breath between the interviewer's question and your answer. The recruiter might ask your question and then continue to talk rather than waiting for your answer. That's why it's smart to give them a second after each question before you start talking, so you both don't end up talking at once.
A pause gives you a chance to think about what you're going to say rather than saying whatever comes to your mind. Remember that you're on the phone so speak slowly, pronounce your words clearly and take a breath.
8. Send a thank-you note after the interview
Make a good first impression, end your call on a positive note and follow up with and thoughtful thank-you email. Let the interviewer know that you appreciated them taking the time to talk to you. Show that you are invested in the process. A thank you note delivered after a phone interview will help you stand out and show that you're genuinely interested in the position.
Use these 8 strategies, and you will be on your way to acing your next phone interview.